Tanning Salon Pensacola, FL (Escambia County)
Asking Price:
$49,000
Gross Income:
$57,000
Cash Flow:
$25,000
EBITDA:
N/A
FF&E:
$30,000
Inventory:
$500
Real Estate:
N/A
Established:
2004
Employees:
1
Business Listed By:
Reference #sept3rd


To make an offer or for more information click here
Click here If you own a business already you can
Get Guaranteed funding with just $495 down to buy this business*
Business DescriptionThis is a fun business to own and easy to do. If you enjoy working with happy customers, know how to grow a business, and love being your own boss, this is a great opportunity for you. The current owner purchased this business in November 2011 and invested $15,000 upgrading equipment and giving the interior a well designed face-lift. A steady stream of clients drop in for quick 10, 15 or 20 minute visits depending on the size and intensity levels of the 6 various tanning beds. Several skin-care products are sold at a substantial profit which supplements the lucrative tanning bed revenues. This business is set up for an absentee owner and is easy to operate for employees. High tech software monitors the use, maintenance, and revenue of each tanning bed. Advertising was recently expanded, and and a sharp looking webpage has been added. Several new services including spray tanning and wraps have also shown instant results at the register. New clients provide contact information which is catalogued and used for various permission marketing strategies. The salon is located in a small modern shopping center on a busy road and invites lots of drive-by customers. There is little nearby competition and several clients travel 15-20 miles to get their tanning fix. Parking is ample and the atmosphere is very soothing. You must see this place! This most enthusiastic owner has big plans for business expansion and revenue growth. Unfortunately, he has a family member with a recently discovered illness that will require his attention. He is willing to train the new owner and share his vision for this rapidly growing business. Jump on this now. Detailed Information
Inventory:
Included in asking price
To make an offer or for more information click here
Click here If you own a business already you can
Get Guaranteed funding with just $495 down to buy this business*Furniture, Fixtures, & Equipment (FF&E):
Included in asking price
Facilities:
Very clean and modern
Competition:
Very few competitors
Growth & Expansion:
Seller has recently launched a new advertising campaign which has shown immediate results. Also, spray tans, and wraps have just been added as new services. Two lucrative contracts have been added for the next twelve months. Revenues are expected to triple within the next 12 months.
Support & Training:
Seller will train. Learn all the ins and outs of this business so you can make more money sooner.
Reason for Selling:
Sick family member needs care
The information in this listing has been provided by the business seller or representative stated above. BuyTanningSalons.com has no stake in the sale of this business, has not independently verified any of the information about the business, and assumes no responsibility for its accuracy or completeness
Powered by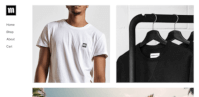 Create your own unique website with customizable templates.